Woo Hoo!!! I have made it through my first week of Blogmas!!! It's still early but I think I'm going to make it.
When I first started I did say that all my posts would not be Christmas themed. I have to break it up just a bit and let you all know what's going on outside of the holiday festivities in my life.
With that being said let's roll into another episode of trash talkin'.
Shea Moisture: Raw Shea Butter Extra Moisture Detangler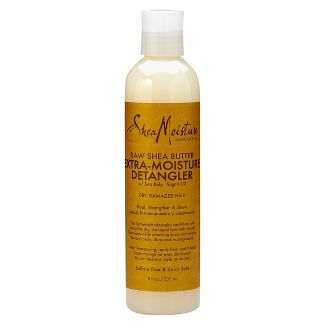 Price: $10.99 – 8 fl. oz (Target)
Use: Every SINGLE wash day
Benefits: Paraben and sulfate-free. I enjoyed using this moisture because it had the extra moisture already built into the product. It definitely detangled my hair.
Would I repurchase? No. It is a good product however, I am on the search for spray detanglers. On wash and style days I am looking for the easiest way to apply the product without having to spend a lot of time trying to get the product out. After a while I found myself having to shake the bottle to push the product to come out. Also, the product mentions slip but it didn't have as much as I thought it would.
Shea Moisture: Coconut & Hibiscus Curl Enhancing Smoothie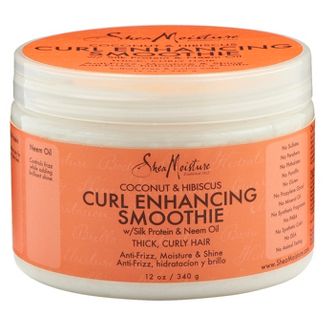 Price: $9.99 – 12 fl. oz (Target)
Use: Monthly – twist outs
Benefits: Paraben and sulfate-free. When I'm not wearing a protective style that can last more than 4 weeks, monthly I am using this product. I use this product for my twist outs. I like that it reduces the frizz when it's time to unravel my twists.
Would I repurchase? Yes. I always make sure I have at least one container in my product stash.
Shea Moisture: Coconut & Hibiscus Curl Style Milk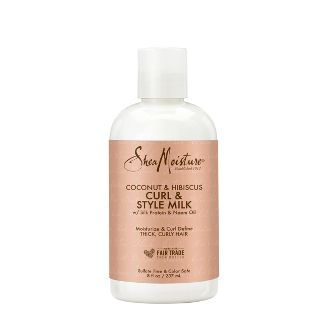 Price: $9.99 – 8 fl. oz (Target)
Use: Monthly
Benefits:
Paraben and sulfate-free.
SheaMoisture Coconut & Hibiscus Curl & Style Milk is a leave-in moisturizer and hair treatment product that makes curly hair soft, shiny, bouncy and frizz-free.
You can use this hair product from SheaMoisture every day for enviously lustrous and easily manageable curls.
SheaMoisture's Coconut & Hibiscus Curl & Style Milk contains Coconut Oil to hydrate and protect your hair against damage and reduce breakage.
This hair cream has Silk Protein and Neem Oil that will smooth messy, wavy, curls and give your hair a soft and silky feel.
Would I repurchase? No. I have to use way too much of this product and still, I'm not completely satisfied with the results.
Morrocan Oil: Restorative Hair Mask
Price: $43 – 8.5 fl. oz (Sephora)
Use: Monthly
Benefits:
What it is: A protein-rich, argan-oil-infused hair mask that restores and helps repair dry, weakened hair to improve texture, elasticity, and manageability.  
Hair Type: Straight, Wavy, Curly, and Coily
Hair Texture: Fine, Medium, and Thick
Key Benefits: Hydrates, Fights Frizz, and Nurtures Damaged and Broken Hair and Split Ends 
Would I repurchase? Yes. It is one of my pricier hair products, however, maintaining healthy hair is a priority for me. This is especially great for those who color their hair often. This mask leaves my hair smooth and shiny. It's also a great repair for those of us who love to pull our hair up and/or back often. A great time to purchase is during the Sephora sale.
The Art of Shaving: Shaving Cream Lemon Essential Oil
Price: $17 – 1.5 fl. oz
Use: Monthly
Benefits:
The shaving foam provides glide that helps protect the skin from irritation and razor burn.
The water in the shaving cream helps to soften the beard hair for an easy shave.
The formula contains glycerin and coconut acid that provide hydration during the shave.
The application of shaving cream with a shaving brush helps lift the beard. In turn, this lather helps keep the beard hair lifted during the shave for a close cut.
Coconut Acid*, Essential Oils and Extracts from natural origins
Contains a high concentration of Glycerin
Free from synthetic dyes and alcohol
Would I repurchase? Yes. A little bit of this product goes a long way. I hope they bring back the 5.0 fl oz as it took me forever to use the entire jar. It is sold at a men's shaving store but ladies get in there and get you some. I was in there shopping with a friend of mine and I ended up purchasing a jar for myself and my Dad. My mom secretly uses his now haha.
Sorry but I could no longer find the Carols Daughter products. I believe they are now discontinued.
Oh and if you have a busy schedule like mine and didn't have the chance here are all my posts for the week of blogmas. 
Day 1: Debt-Proof Holiday
Day 2: My Wishlist and Giveaway
Day 3: Christmas Cocktails
Day 4: Alpha Females 
Day 5: Christmas Movies 
Day 6: Stocking Stuffers
See y'all tomorrow…Blogmas Day 8: Beauty Junkie Gift Guide.
bouncy
co-wash
curls
detangle
full
lemon
shaving cream
shea moisture
smoothie
soft
thick